Artist performance: Earth to Abigail
The Forest #
Live Coding Session Using Sonic Pi #
Mynah Marie, a.k.a. Earth To Abigail, takes us for a walk in an algorithmic forest where sounds represent not only nature but a deep conversation inside ourselves. Combining her voice with Sonic Pi, the song "The Forest" is meant to be an inspirational soundscape as well as a form of inner dialogue.
Presented by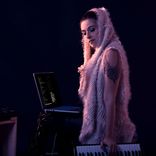 Earth to Abigail
Born in Montreal, Canada from a Portuguese family, Mynah Marie has been living the life of a nomad for the past 15 years. After pursuing undergraduate studies in classical piano, she left her hometown at the age of 21 to embark on her first long-term journey. The necessity to find an instrument she could carry around while backpacking across the country is what led her to buy her first accordion.
Since then, her work as a musician gave her the opportunity to collaborate with an impressive variety of artists, from Mexico with the Latin fusion band Casa Verde Colectivo to India with the Bollywood singer Arijit Singh or Israel with singer Din Din Aviv with stops in France, Italy, Spain, Portugal, California, Nepal, and Egypt along the way.
In 2016, Mynah discovered herself a passion for computer programming. Motivated by the desire to find her creative freedom as a solo performer, her project Earth To Abigail was born soon after she discovered Sonic Pi. Now, she creates music with computer code along with her voice and instrument, integrating electronic soundscapes into her songwriting.